Madd Love in Action
UTEC's unique, comprehensive program model shows madd love to young adults through multiple chances, across multiple years, and access to multiple pathways.
Street Outreach & Violence Intervention
UTEC's Streetworkers meet young adults "where they are at." Their work serves as the starting point of UTEC's model. The primary goals of the Streetworker program are to recruit participants for UTEC's Workforce Program and to assist in reducing violence in the cities of Lowell, Lawrence, and Haverhill through gang peacemaking.
Streetworkers are in the community every day building relationships with proven-risk young people. This 24/7, on-call outreach takes a variety of forms: visits to gang hotspots and locations that are susceptible to escalated violence, home visits to recently-justice involved young people, hospital visits after a youth is shot or stabbed, funeral presence to prevent retaliation, visits to juvenile detention facilities and county jails, and monitoring of social media.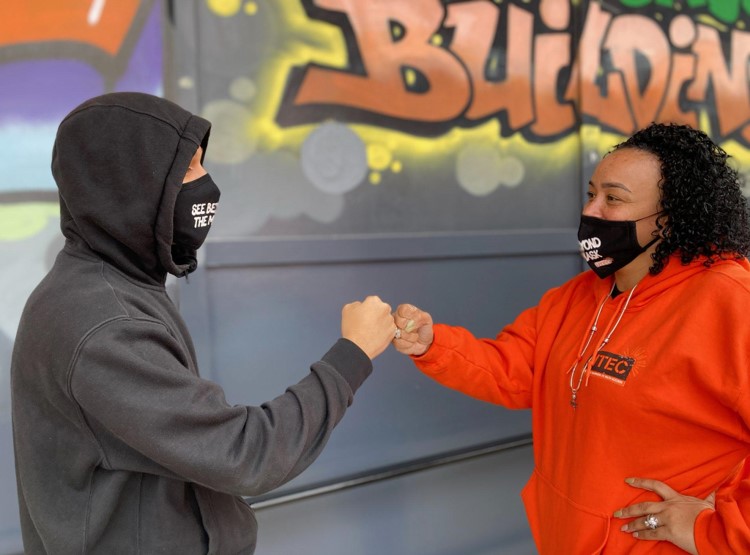 Behind the Walls Programming
Our team is always seeking opportunities to connect with young adults exactly where they are in life, even if that place is jail. Streetworkers, Educators, and Mental Health staff have an extensive "in-reach" program where they work with young adults inside correctional facilities. To carry out this activity, UTEC Streetworkers work in collaboration with the Lowell Police Department, The Department of Youth Services, the Middlesex and Essex County Sheriff's Offices, and the State Department of Corrections.
The team conducts individual visits to build relationships, address mental health, and assist young people with reentry plans, and they facilitate small-group talking circles to address issues of shared interest and to deepen these relationships.
Upon a young person's release, Streetworkers provide immediate transition support, often picking the young person up from the facility and taking them for a meal, a haircut, shopping for street clothes if needed, and visiting the UTEC program center to encourage enrollment into our workforce programming.